Pelaksanaan U4S adalah berdasarkan "Redesign University Higher Education: University, Industry and Community Engagement", dan juga Pelan Pembangunan Pendidikan Malaysia (PT) 2015-2025 di mana "Quadraple Helix Engagement Model" menjadi paksi utama kepada konsep U4S. Model ini akan menjamin kelestarian hubungan antara universiti, kerajaan, industri dan komuniti dan akan memberi kesan langsung (outcome) kepada masyarakat dalam bentuk perubahan pengetahuan (ilmu), sikap, kemahiran dan aspirasi (KASA); akan dapat mewujudkan produk/perkhidmatan baharu yang menyumbang kepada kesejahteraan masyarakat melalui peningkatan nilai komersil dan penciptaan kekayaan.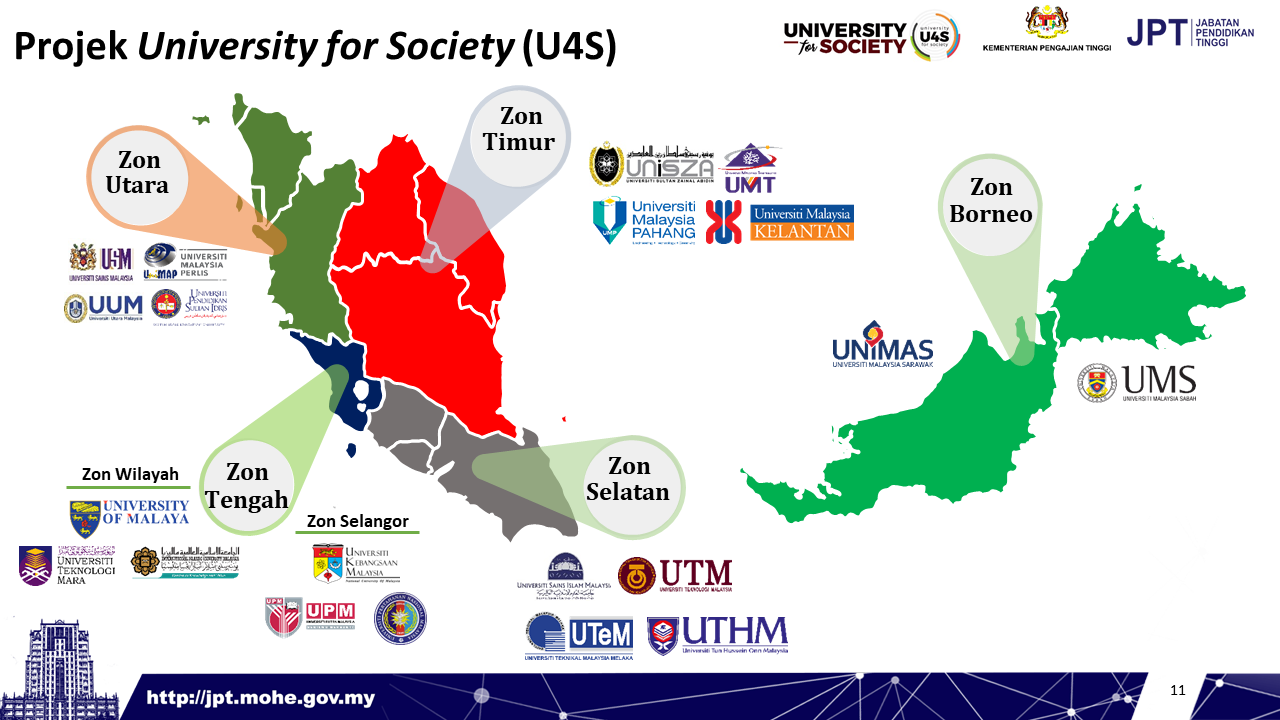 UNIVERSITI TEKNOLOGI MALAYSIA (UTM)

UNIVERSITI TEKNIKAL MELAKA (UTeM)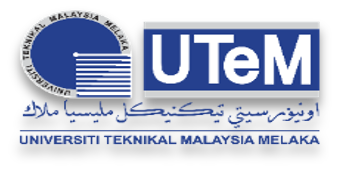 UNIVERSITI TUN HUSSIEN ONN MALAYSIA (UTHM)
Conserve The Nature, Love The River


Pemulihan dan Kelestarian
Sungai Kim Kim
Tragedi Sungai Kim Kim yang menggemparkan Malaysia serta mendapat liputan hangat dalam dan luar negara pada 2019 menjadi titik tolak Universiti Teknologi Malaysia (UTM),  Universiti Teknologi Tun Hussein Onn (UTHM), Universiti Teknikal Melaka (UTeM) dan Universiti Sains Islam Malaysia (USIM) bersinergi melaksanakan Projek Pemuliharaan dan Kelestarian Sungai Kim Kim melalui inisiatif Program University For Society (U4S) Zon Selatan. Pemetaan asal dan pemilihan lokaliti bermula di Sungai Selangkah iaitu limbungan Sungai Kim Kim berdasarkan kronologi kes pencemaran tersebut. Sebanyak tiga teras utama telah ditetapkan untuk Program U4S Zon Selatan iaitu sosio ekonomi dan persekitaran, pendidikan serta kesihatan.
UTM melalui projek Pembangunan Taman Eko Komuniti Industri memilih komuniti industri sebagai usaha mendekati komuniti berkenaan dalam menangani isu pencemaran disebabkan oleh sisa kimia kilang sekaligus menangkis persepsi dan tanggapan buruk masyarakat tempatan. Sementara itu, di bawah teras pendidikan, program-program kesedaran dan kepentingan kecintaan sungai di kalangan guru dan pelajar sekolah telah diterajui oleh UTHM dan UTeM.

UTHM telah membawa konsep "Conserve The Nature, Love The River" yang merungkai pemahaman teori dan konsep penunjuk biologi melalui kaedah

Average Score Per Taxon

(ASPT) untuk mengenalpasti perubahan kualiti air melalui penunjuk biologi.

Ibarat pepatah Melayu, "melentur bulur biarlah dari rebungnya" maka pihak UTeM telah melaksanakan pertandingan penciptaan robot pembersihan sungai Pendekatan yang lebih kreatif diaplikasikan terhadap generasi muda supaya mereka dapat memahami bahawa pentingnya menjaga kebersihan sungai dan berinovasi dengan teknologi dalam pemuliharaan sungai.

Selain itu, tumpuan teras kesihatan diterajui oleh USIM melalui

Psychological First Aid Guide

yang memberi perhatian khusus kepada pihak kaunselor dan guru sekolah melalui persijilan latihan intervensi yang dilatih oleh pakar perubatan bertauliah agar mereka dapat  membantu masyarakat setempat khususnya dalam mengatasi rasa takut, trauma dan juga panik sekiranya berlaku semula tragedi yang sama  berhampiran dengan kawasan sungai yang pernah tercemar.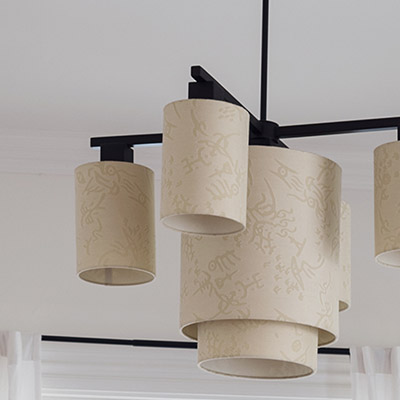 Modern Fixture
Nulla quis lorem ut libero
Malesuada feugiat rutrum
Praesent sapien massa 
Nulla quis lorem ut libero
Malesuada feugiat rutrum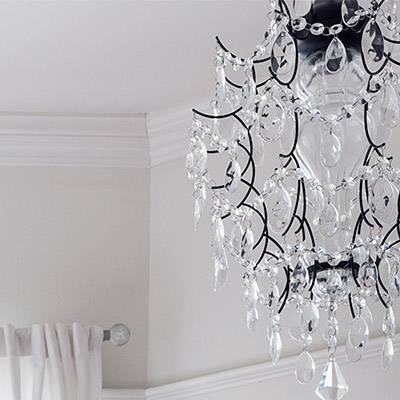 Vintage Chandelier 
Nulla quis lorem ut libero
Malesuada feugiat rutrum
Praesent sapien massa 
Nulla quis lorem ut libero
Malesuada feugiat rutrum
Alamat Sekretariat U4S Zon Selatan
Sekretariat U4S Zon Selatan
Pusat Jaringan Komuniti dan Industri,
Jabatan Naib Canselor (Penyelidikan dan Inovasi)
Aras 3
Bangunan Canseleri Sultan Ibrahim,
Universiti Teknologi Malaysia
81310 Skudai Johor